Discover all about Bonfire for non-profit organizations:
Prices and discounts for nonprofits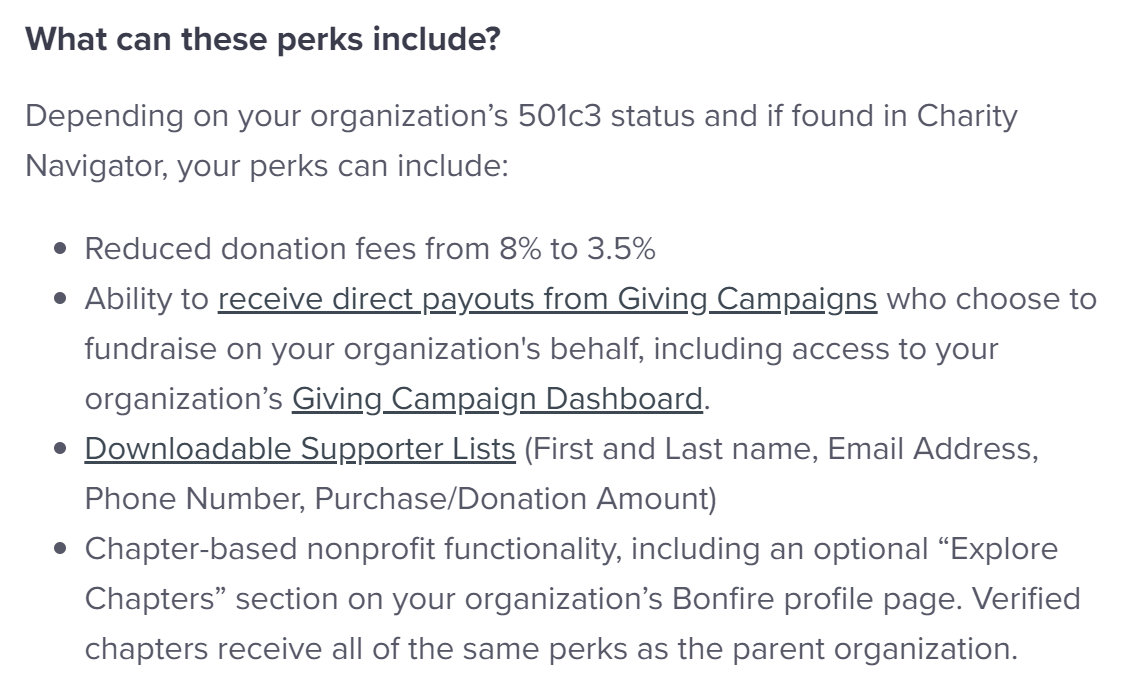 Bonfire has a special deal only for non-profit organizations (valid in 2023):
Reduced donation fees from 8% to 3.5% and other benefits for nonprofits with 501c3 status.
Bonfire for nonprofits
Platform for designing and selling custom shirts.
Bonfire, a t-shirt platform, is a tool that allows organizations to design and sell custom t-shirts online. Here are a few potential benefits of using Bonfire for nonprofit organizations:
Raise funds: Bonfire allows nonprofit organizations to sell custom t-shirts online as a way to raise funds for their programs and initiatives.
Engage supporters: By offering a range of customizable t-shirt options, Bonfire can help nonprofit organizations engage and build loyalty among their supporters.
Streamline production: Bonfire handles the production and fulfillment of t-shirts, which can save nonprofit organizations time and resources.
Enhance transparency: Bonfire includes tools to help nonprofit organizations track and report on t-shirt sales, which can enhance transparency and accountability.
Increase reach: By selling t-shirts online, nonprofit organizations can reach a wider audience and potentially increase their impact.
You can check more details about their features and advantages on this video:
Bonfire reviews
Check user reviews and scores on:
Alternatives to Bonfire
There are other similar services that offer special deals and discounts for nonprofits, such as:
You can check all the alternatives on: Ecommerce platforms
More deals for nonprofits
Discover more deals and discounts for non-profit organizations: