Discover all about Flipsnack for non-profit organizations:
Prices and discounts for nonprofits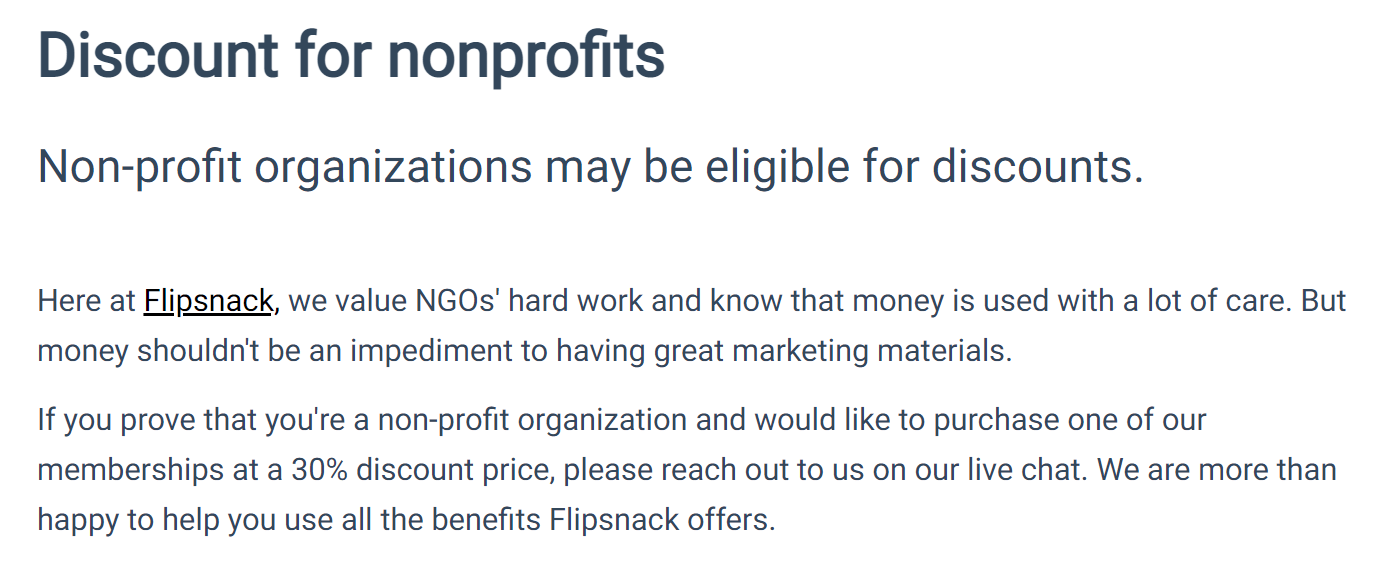 Flipsnack has a special deal only for non-profit organizations (valid in 2023):
30% discount price for non-profit organizations.
Flipsnack for nonprofits
Software to creating online flipping books.
Flipsnack is a digital publishing platform that can be used by nonprofit organizations to create and distribute online publications, such as e-books, catalogs, and magazines.
Nonprofit organizations can use Flipsnack to create engaging and interactive content that can be shared with their audience on their website, social media, and via email.
The platform offers a range of customizable templates and design tools, allowing nonprofit organizations to create professional-looking publications without needing specialized design skills.
Additionally, Flipsnack offers features such as analytics, password protection, and the ability to embed publications on websites, which can be useful for nonprofit organizations looking to track the success of their content and control access to it.
You can check more details about their features and advantages on this video:
Flipsnack reviews
Check user reviews and scores on:
Alternatives to Flipsnack
There are other similar services that offer special deals and discounts for nonprofits, such as:
You can check all the alternatives on: Creative software
More deals for nonprofits
Discover more deals and discounts for non-profit organizations: