Discover all about Otter.ai for non-profit organizations:
Prices and discounts for nonprofits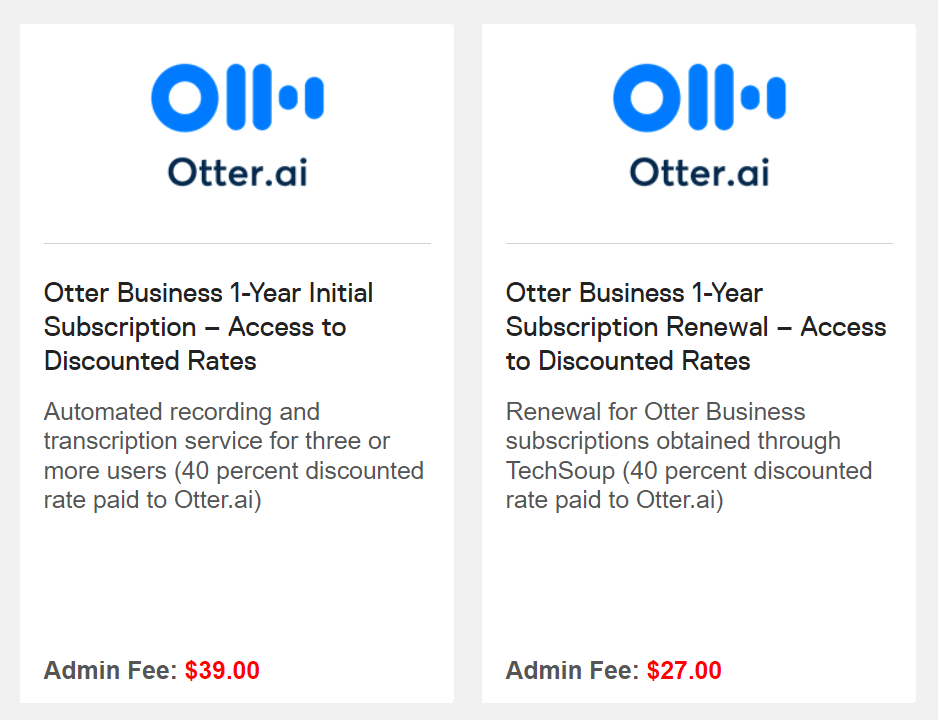 Otter.ai has a special deal only for non-profit organizations (valid in 2023):
Special discounts for nonprofits via Techsoup. You have to pay an admin fee.
Otter.ai for nonprofits
Automated recording and transcription software.
Otter.ai is a tool that uses artificial intelligence to automatically transcribe and analyze spoken language.
Nonprofit organizations can use Otter.ai to transcribe meetings, interviews, and other events, and then use the generated transcriptions to search for keywords, create summaries, and identify key points and action items.
This can help nonprofit organizations save time and effort by automating the transcription process, and can provide a useful record of meetings and events that can be easily shared with team members or stakeholders.
Some common features of Otter.ai include:
Automatic transcription of spoken language
Keyword search and highlight to quickly find important information
Meeting summaries to provide a concise overview of key points and action items
Integration with other tools, like Google Drive and Dropbox, to share and store transcriptions.
You can check more details about their features and advantages on this video:
Otter.ai reviews
Check user reviews and scores on:
Alternatives to Otter.ai
There are other similar services that offer special deals and discounts for nonprofits, such as:
You can check all the alternatives on: AI tools
More deals for nonprofits
Discover more deals and discounts for non-profit organizations: