Discover all about PayAnywhere for non-profit organizations:
Prices and discounts for nonprofits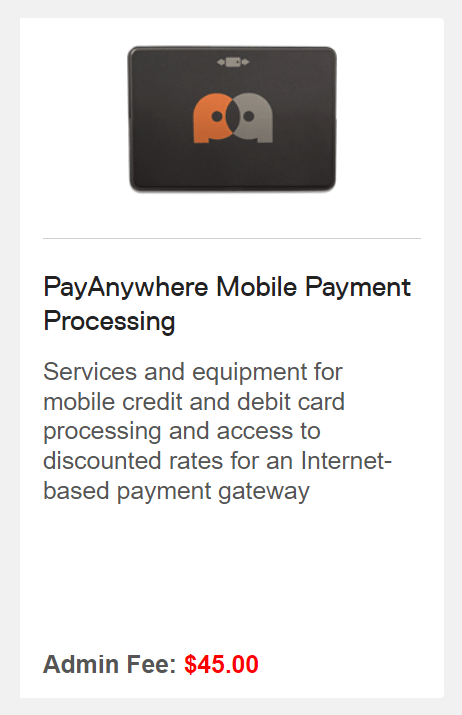 PayAnywhere has a special deal only for non-profit organizations (valid in 2023):
Special discounts for nonprofits via Techsoup. You have to pay an admin fee.
PayAnywhere for nonprofits
Mobile payment processing solution for accepting credit cards on smartphones and tablets.
PayAnywhere is a mobile payment processing and financial management tool that can offer a number of advantages to nonprofit organizations. Here are a few potential benefits of using PayAnywhere:
Accept donations on the go: PayAnywhere allows nonprofit organizations to accept donations from a smartphone or tablet, which can be particularly useful for organizations that need to accept payments at events or in other situations where a traditional point-of-sale system may not be available.
Process payments securely: PayAnywhere uses industry-standard security measures to protect transactions and sensitive financial information, which can help nonprofit organizations build trust with donors and clients.
Automate financial processes: PayAnywhere includes tools to help nonprofit organizations automate financial processes, such as invoicing and recurring payments, which can save time and reduce the risk of errors.
Integrate with other tools: PayAnywhere can be easily integrated with other tools, such as fundraising platforms and CRM systems, which can further streamline the financial management process for nonprofit organizations.
Increase flexibility: By allowing nonprofit organizations to accept payments from a smartphone or tablet, PayAnywhere can help increase flexibility and make it easier for organizations to accept donations in a variety of settings.
You can check more details about their features and advantages on this video:
PayAnywhere reviews
Check user reviews and scores on:
Alternatives to PayAnywhere
There are other similar services that offer special deals and discounts for nonprofits, such as:
You can check all the alternatives on: Payment platforms
More deals for nonprofits
Discover more deals and discounts for non-profit organizations: