Discover all about SmugMug for non-profit organizations:
Prices and discounts for nonprofits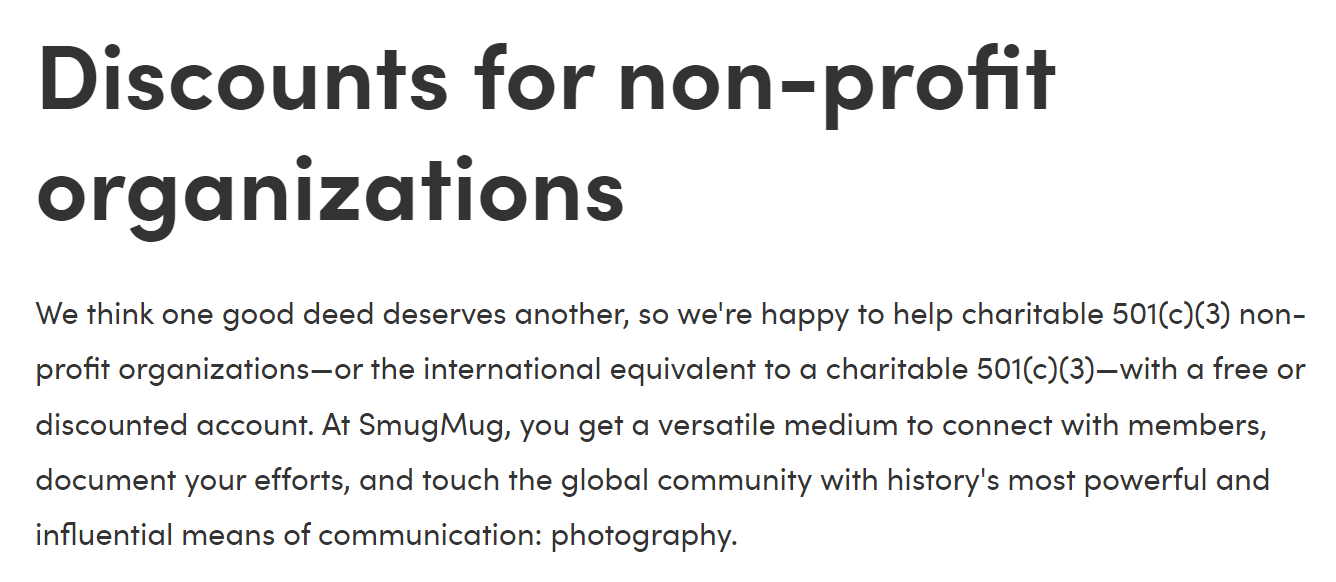 SmugMug has a special deal only for non-profit organizations (valid in 2023):
Special discounts for 501(c)(3) charities (or the international equivalent). Contact them for more details.
SmugMug for nonprofits
Platform to store, share and sell photos.
SmugMug is a photo and video sharing platform that allows users to upload, organize, and share their photos and videos online. For an organization, some possible uses for SmugMug could include:
Creating a centralized, online repository for the organization's photos and videos, allowing members to easily access and share these materials.
Setting up a public-facing website or gallery to showcase the organization's work and achievements, and share them with donors, volunteers, and other stakeholders.
Using the platform's privacy settings to control who can access and download the organization's photos and videos.
Creating custom portfolios or galleries to share with specific individuals or groups, such as donors, board members, or the media.
SmugMug reviews
Check user reviews and scores on:
Alternatives to SmugMug
There are other similar services that offer special deals and discounts for nonprofits, such as:
You can check all the alternatives on: Photo edition and management
More deals for nonprofits
Discover more deals and discounts for non-profit organizations: