Discover all about Tableau for non-profit organizations:
Prices and discounts for nonprofits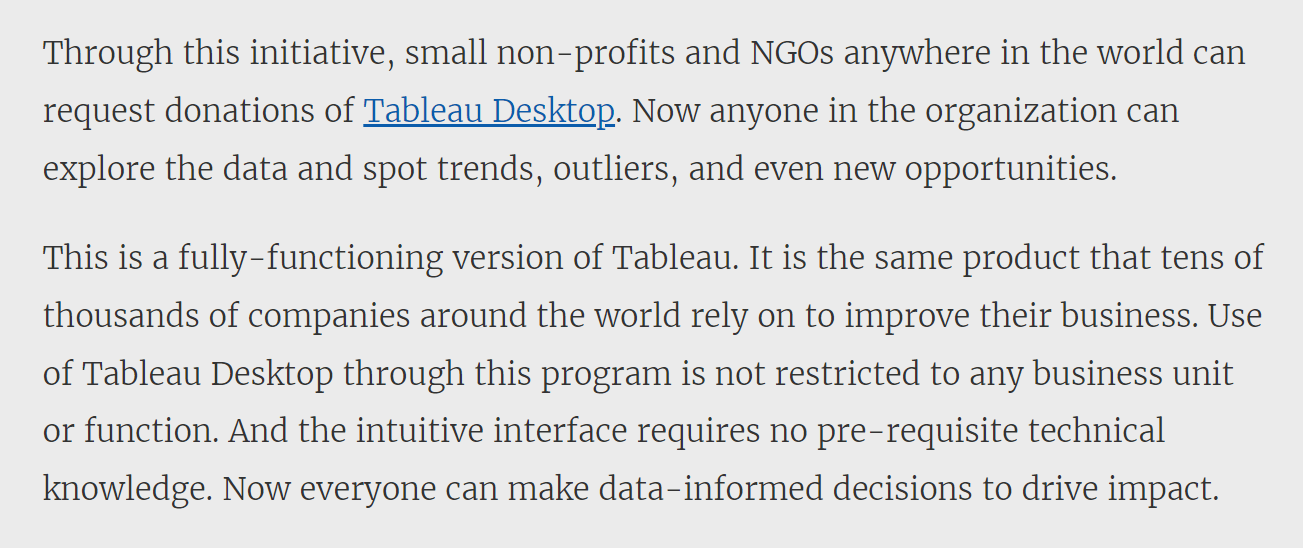 Tableau has a special deal only for non-profit organizations (valid in 2023):
Free license of Tableau Desktop for nonprofit organizations.
Tableau for nonprofits
Business Intelligence tool to make complex analyses.
Tableau is a business intelligence and data visualization tool that can be used by nonprofit organizations to gain insights and make data-driven decisions.
Nonprofits can use Tableau to track and analyze key metrics, such as fundraising efforts, program effectiveness, and operational efficiency.
Tableau allows users to create visualizations and dashboards using their data, which can help nonprofits communicate their findings to stakeholders and make informed decisions based on the insights they gain from the tool.
Additionally, Tableau can be used to monitor and troubleshoot IT systems, which can help nonprofits ensure that their technology infrastructure is running smoothly and efficiently.
You can check more details about their features and advantages on this video:
Tableau reviews
Check user reviews and scores on:
Alternatives to Tableau
There are other similar services that offer special deals and discounts for nonprofits, such as:
You can check all the alternatives on: Reporting and Business Intelligence
More deals for nonprofits
Discover more deals and discounts for non-profit organizations: