Discover all about Caspio for non-profit organizations:
Prices and discounts for nonprofits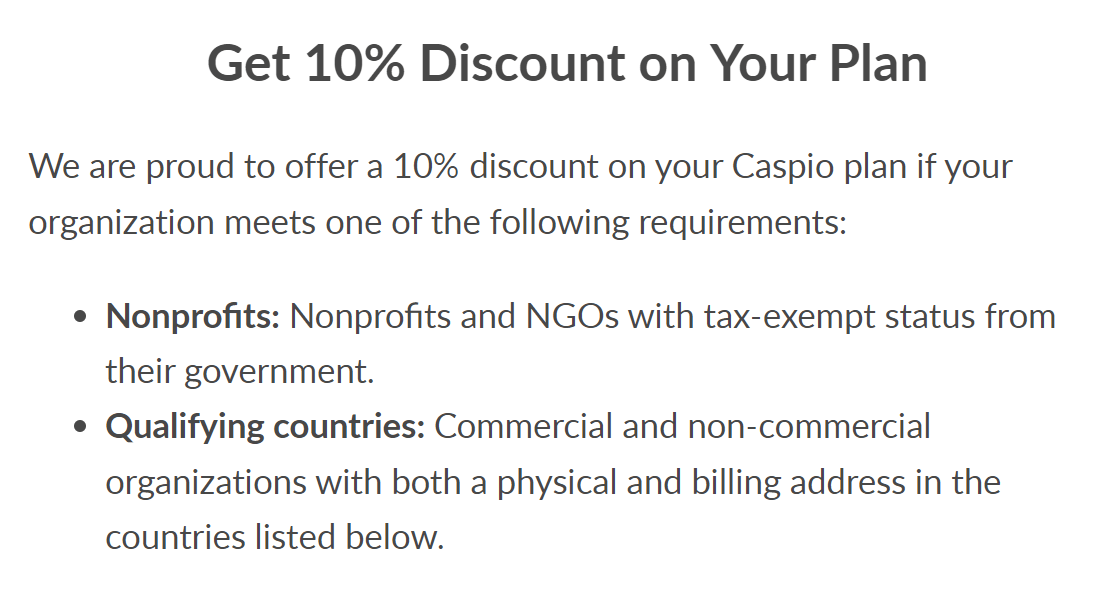 Caspio has a special deal only for non-profit organizations (valid in 2023):
10% discount for nonprofits and NGOs with tax-exempt status from their government.
Caspio for nonprofits
No-code platform for creating business applications.
Caspio is a low-code platform that provides tools for building and deploying web-based applications quickly and easily, without the need for specialized coding skills. Nonprofit organizations can use Caspio to create custom applications for a variety of purposes, such as managing donations, tracking volunteers, or organizing events. Some potential uses of Caspio for nonprofits include:
Building custom applications, using Caspio's visual editor and pre-built templates to create applications with a variety of features and functionality.
Customizing the appearance and behavior of applications, using Caspio's customization options to match the look and feel of the nonprofit's website or web application.
Collecting and managing data, using Caspio's data management and security features to store and manage application data securely.
Integrating with other systems and services, using Caspio's API and integrations with other platforms and services to enable the application to access data and perform actions.
You can check more details about their features and advantages on this video:
Caspio reviews
Check user reviews and scores on:
Alternatives to Caspio
There are other similar services that offer special deals and discounts for nonprofits, such as:
You can check all the alternatives on: App and website builders
More deals for nonprofits
Discover more deals and discounts for non-profit organizations: