Discover all about New Relic for non-profit organizations:
Prices and discounts for nonprofits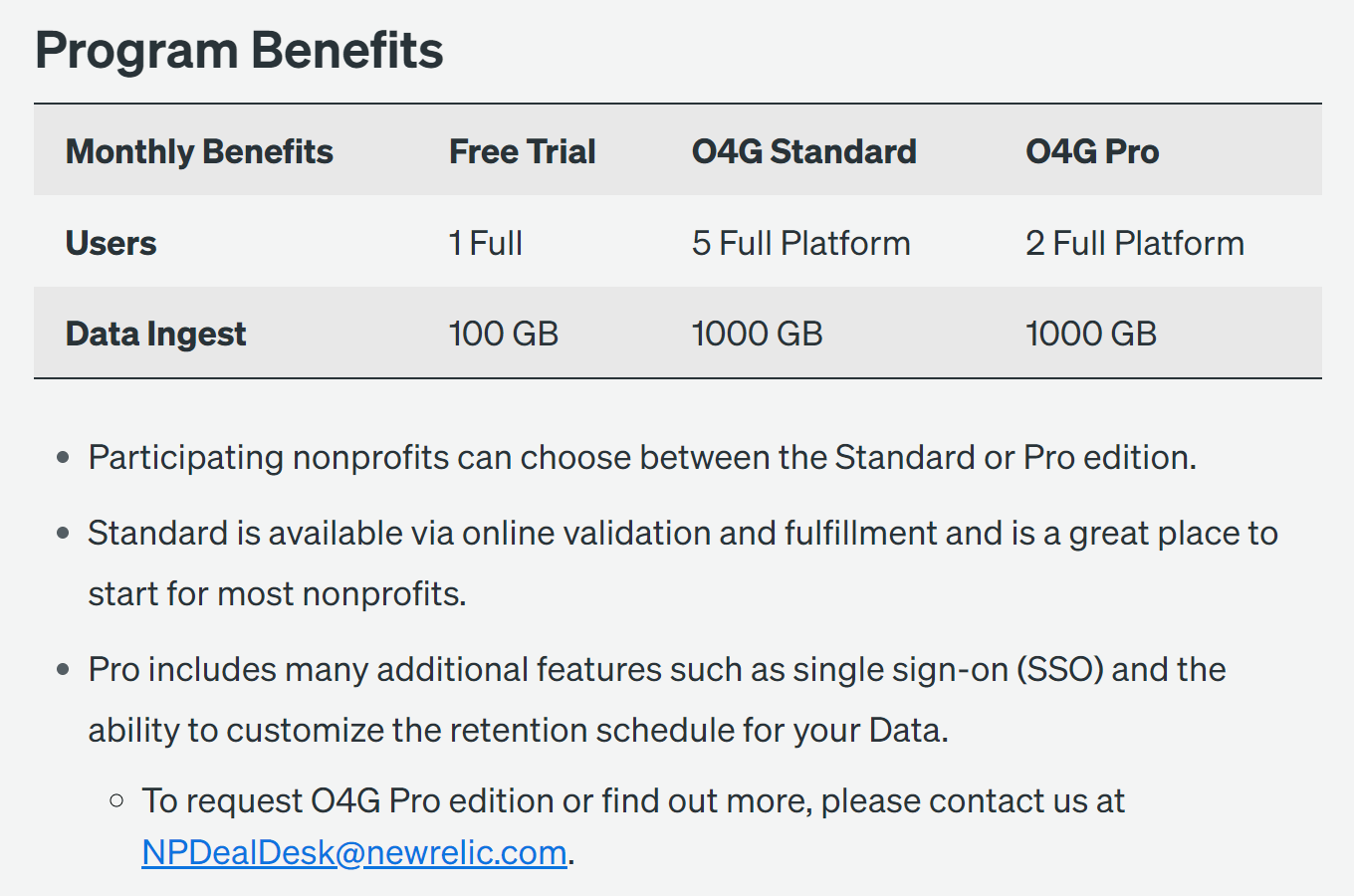 New Relic has a special deal only for non-profit organizations (valid in 2023):
Special free offer for nonprofit organizations with 501(c)(3) status or equivalent: 4 additional free users and 900 additional GB of data for the Standard plan or 2 users for the Pro plan.
New Relic for nonprofits
Developer tool to monitor, debug and optimize websites and apps.
New Relic is a software analytics platform that can be used by nonprofit organizations to monitor and optimize their digital operations.
Nonprofit organizations can use New Relic to gain insight into the performance and usage of their websites, applications, and other digital tools, and to identify potential issues and opportunities for improvement.
The software allows nonprofit organizations to track key metrics, such as page load times, error rates, and user engagement, and to receive alerts when there are problems or unusual activity. By using New Relic, nonprofit organizations can ensure that their digital tools are running smoothly and efficiently, and can take action to address any issues that may arise.
Additionally, New Relic can be used to monitor the performance of third-party vendors and services, such as cloud providers and payment processors, which can be useful for nonprofit organizations that rely on these types of services to support their operations.
You can check more details about their features and advantages on this video:
New Relic reviews
Check user reviews and scores on:
Alternatives to New Relic
There are other similar services that offer special deals and discounts for nonprofits, such as:
You can check all the alternatives on: Tools for developers
More deals for nonprofits
Discover more deals and discounts for non-profit organizations: